Arrowsmith & Grant Refrigeration are working closely with SATO  to provide a complete RFID tracking system for all of your blood and blood products.
Our fridge shelving can be upgraded to incorporate a RFID Antenna which tracks the movement of all units every time they are placed into or removed from the fridge. Do away with your manual blood fridge registers (which are notoriously hard to manage) and embrace RFID technology.
Unlike other types of RFID technologies, PJM RFID is entirely unaffected by blood which makes it ideal for tracking of blood. PJM RFID provides high speed, reliability of operation and 100% accuracy for blood tracking.
SATO VICINITY's industry leading RFID Tunnel and Fridge readers provide reliable and 100% accurate tracking of blood supply chain and management of blood inventory.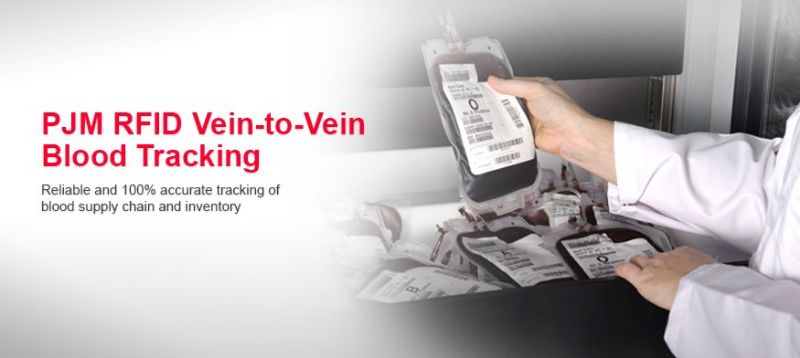 Key Benefits
Reduced blood product wastage 
By providing full supply chain visibility, reducing wastage from shipping errors
By having full visibility of cold chain compliance within blood processing centers, blood banks and hospital wards, unnecessary disposal of units can be dramatically reduced or eliminated
Identify potential for wastage before it is too late. If blood has not arrived at its destination in a timely manner, an alert can be activated
Real-time visibility of national blood stock enables reduction in inventory levels through more efficient use of existing stock, increased confidence in ability to supply, and reduced need for "safety stock" at a local level. Reduced inventory means reduced wastage.
 Increased patient safety
Better assurance of blood product quality
High level automated verification reduces potential for blood handling errors
PJM RFID eliminates barcode scanning errors
 Increased efficiency of your supply chain
Know where blood units are at each stage of the supply chain
Automated and accurate picking and packing processes – Remove manual scanning and eliminate shipping errors
Reduced time-to-freezer for Plasma improves product quality
Greater visibility of fate-of-unit
Provides an automatic audit trail of blood units as they move from the blood processing center, to the laboratory and remote fridges
No manual counting and verification required
Reduces workload of staff to record unit movements
Go to the SATO Vicinity website for further information or contact Arrowsmith & Grant Refrigeration.